Silver Plater™ - Holland Hallmark
Restores worn silver plate at home!!!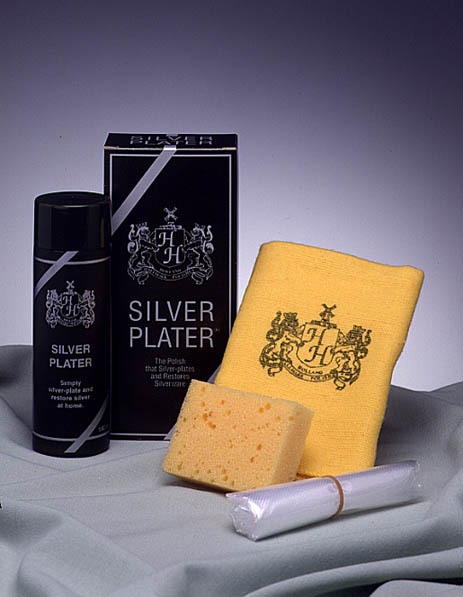 Pure silver in a liquid !
For quick and easy restoration of silver and silver plated articles AT HOME.
Silver Plater is a very special polish, containing a unique combination of non-toxic, non-abrasive, non- flammable ingredients and pure silver, which amazingly silver plates during cleaning. Just rub on and polish off.
Silver Plater cleans, polishes and re-plates with pure silver, gives a great shine and protects against premature tarnishing.
Silver Plater will put silver back on your silverware, whilst you are simply cleaning.
Silver Plater is a very special restoration polish, as it contains pure silver and will add a layer of fine silver whilst you polish. Because of it's unique formula, Silver Plater re-plates silver plated objects where the silver has been worn away through years of polishing with abrasive polishes.
Therefore, silver plated items where the base metal of copper, brass or EPNS is showing through, can now be restored to their former glory, by applying a new layer of silver every time you polish with Silver Plater. Also copper or brass objects can now be simply transformed into beautiful silver plated treasures.
Silver Plater will enhance and protect most dull and worn Solid Silver, by adding a fine layer of sparkling new silver, a new 'flash plating', thereby rekindling the object's original splendid shine and luster. Old silver heirlooms will once more look like those wonderful treasures they once were.
Silver Plater can safely be used in the home. It is water-based, non-toxic and non- flammable. No prior restoration knowledge is required as the product comes with full and simple method of use in either English, Dutch, German or French.
Silver Plater may be used on all types of items, such as cutlery, decorative objects, tableware, clocks, trophies, heirlooms etc. Up to 95% restoration success guaranteed.
USE SILVER PLATER AND YOUR SILVERWARE WILL LOVE YOU FOREVER !