Silver Care Set™ - Holland Hallmark
THE PERFECT GIFT FOR SILVER LOVERS !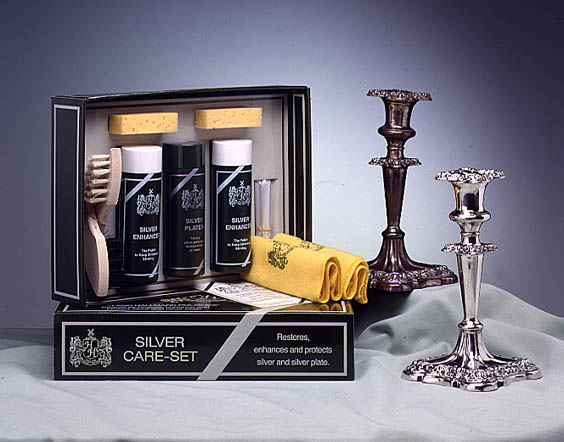 This well presented gift pack of Holland Hallmark products, consists of:
1 bottle of 150ml Silver Plater (to restore worn silverware, by adding a new layer of fine silver to the object) and 2 bottles of 150ml Silver Enhancer (to maintain silverware with pure silver in the bottle.) Furthermore there are included: 2 application sponges, two natural bristle brushes for decorative items, some protective gloves, two non impregnated buffing cloths and a leaflet with method of use and tips.
This beautifully ornate picture frame, was silver plated on copper and has a strong patina . The silver has been worn away over time and the copper is now showing through. The frame was restored with Silver Plater and Silver Enhancer. Brushes were used for application and buffing, in order for the character of the item to be maintained The result speaks for itself!!!
The frame was excellently and very sympathetically restored, thereby retaining the original patina, which gives this object such a warm feeling. Had this been silver plated the electrolytic way, then it would now look like a brand new replica. Certainly not the look we were after !!!

HOLLAND HALLMARK Silver Care Set contains everything you need to restore your silver and then keep it in pristine condition forever !! And for every silver lover this is a great present not just to receive, but also to give away !