HOLLAND HALLMARK INTERNATIONAL
For Professional and Home Use.
On this website you will be guided along our range of unique Holland Hallmark products.
You will be able to access information and tips on Silver Plating at home and we will disclose to you the best kept secrets of maintaining and upgrading precious and semi precious metals.
Enjoy your visit ! And please let us know what you think.
info@hollandhallmark.com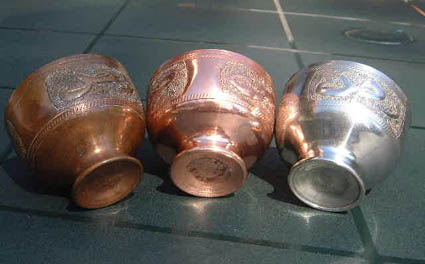 Results obtained with Holland Hallmark products.
From dirty copper to clean copper, cleaned with Holland Hallmark Copper/Brass Cleaner, to silver plated copper, Holland Hallmark Silver Plater.

This site has been designed to give information to consumers as well as to trade visitors.
As we are continuously expanding our market, we are always interested in making contact with: Retailers, Wholesalers and Demonstration Teams, throughout the EU countries.
Furthermore, we have many opportunities to become an Exclusive Manufacturer / Licensee for our unique product range, outside of the EU countries.
If you could be interested in one of the above opportunities, we would welcome to hear from you. Please contact us via e-mail info@hollandhallmark.com or phone us on +31(0)6 462 949 82 or +31 (0)162 229616